Hello weary traveller,
In my head, I am a rockstar and a world-famous writer, but in reality, I am a certified ESL teacher with over 10 years of experience who enjoys going to concerts and wandering from one fictional universe to another.
My name is Kaya, I was born in a beautiful city called Krakow, which is located in Southern Poland, but I also lived, worked, and studied abroad - in South Korea, Taiwan, and France - for over 6 years in total.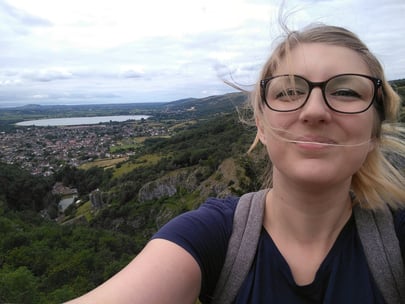 I used to work with all ages and levels but several years ago I made a decision to work with the groups I connect with the most - teenagers and adults. I teach various English programs, such as general or Business English, but my true passion is beating the final boss of the English Language called EXAMS (Cambridge First, Advanced, TOEIC, IELTS, etc) as I consider it the biggest challenge for both students and teachers. There is also nothing more satisfying than seeing your students gain confidence, break their language barrier, and ace their exams they were so terrified of.
Besides creating lesson plans and complaining that a day is not long enough I spend my time reading and watching classic science fiction and fantasy, listening to mostly rock-like music, and swimming. I am also an animal lover so the pictures of my lovely cat might occasionally and unapologetically appear here.