Winter Vocabulary Task Cards
Past Simple Autumn Vocabulary ESL Winter and Christmas speaking cards
These worksheets and task cards combine ESL, Winter and Christmas vocabulary, worksheets, vocabulary tasks, and speaking activities in one product!
They are perfect for Winter and Christmas-themed lessons.
Please check the preview for the full wordlist.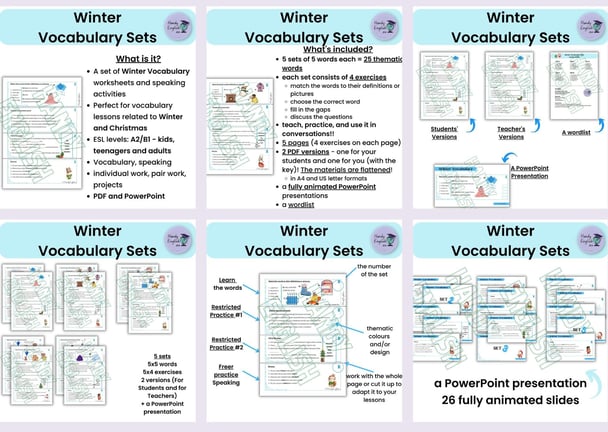 What is it?
A set of Winter and Christmas Vocabulary worksheets and speaking activities

Perfect for vocabulary lessons related to Winter and ChristmasESL levels: A2/B1 - kids, teenagers and adults

Vocabulary, speaking

individual work, pair work, projects

PDF and PowerPoint
What's included?
5 sets of 5 words each = 25 thematic words

each set consists of 4 exercises

match the words to their definitions or pictures

choose the correct word

fill in the gaps

discuss the questions

teach, practice, and use it in conversations!!

5 pages (4 exercises on each page)2 PDF versions - one for your students and one for you (with the key)!

The materials are flattened!

in A4 and US letter formats

a fully animated PowerPoint presentations

a wordlist
Can be used as
warm-up

Individual/pair/group work

projects

homework

short quizzes

writing prompts

speaking prompts

task cards

speaking cards

Winter and Christmas activities
Aims:
to learn and practice thematic vocabulary

to use the words in context

to use the words in real-life conversations

to review vocabulary

to exchange ideas, opinions and traditions

to learn new things outside of the coursebook