Story Cards Winter Christmas
Winter Christmas ELA ESL Task Cards for speaking writing, and vocabulary
SEASONALSTORY CARDSGENERAL EDUCATIONESLSPEAKING CARDSYOUNGER LEARNERSWARM-UPVOCABULARYSPEAKINGFLASHCARDS
Story Cards are a great way to warm up a class! These storytelling task cards are perfect for ESL, Winter and Christmas-themed lessons that focus on speaking, creative storytelling, communication, or even writing!
No matter if it's a lesson that focuses on ESL, Winter and Christmas, winter animals, winter food, a vocabulary project, a creative writing workshop, or just a warm-up activity - use these cards to make your students use their creativity!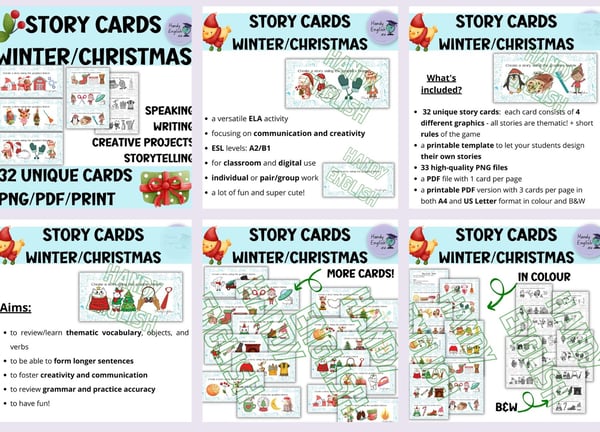 What is it?
a versatile ELA activity

focusing on communication and creativity

ESL levels: A2/B1 -> but can be used with more advanced students as well!

for classroom and digital use

individual or pair/group work

a lot of fun and super cute!
What's included?
32 unique story cards: each card consists of 4 different graphics - all stories are thematic! + short rules of the game

a printable template to let your students design their own stories

33 high-quality PNG files

a PDF file with 1 card per page

a printable PDF version with 3 cards per page

in both A4 and US Letter format in colour and B&W
Can be used as:
a warm-up activity - grab your students' attention with a quick story

a speaking task - use the cards to practice cooperative storytelling

a homework assignment - some students create amazing stories when not under pressure

a writing assignment - use the cards as writing prompts to practice writing and accuracy

a classroom project - create a story and draw it as a project
Aims of the activity:
to review/learn thematic vocabulary, objects, and verbs

to be able to form longer sentences

to foster creativity and communication

to review grammar and practice accuracy

to have fun!